ANDRÉ FU STUDIO UNVEILS 5 ON 25 AT ANDAZ SINGAPORE
The Hong Kong-based studio's design for this modern Cantonese upscale dining restaurant is a sophisticated mix of romance and nostalgia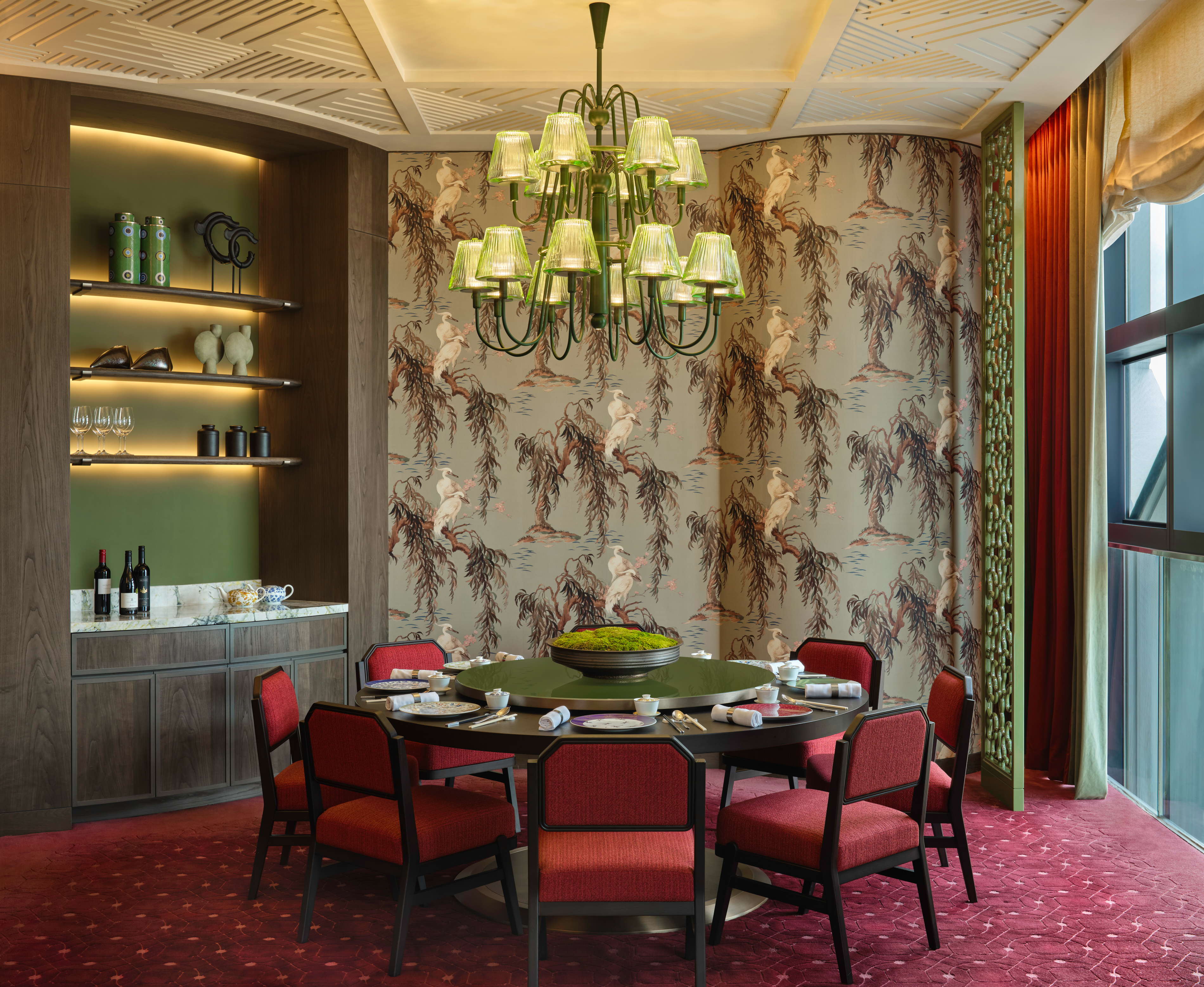 31 January 2022 - André Fu Studio's latest restaurant project – 5 ON 25 at the Andaz Singapore – is a deeply romantic take on the classic Chinese supper club.
For the Hong Kong-based studio's founder, André Fu, the Cantonese restaurant's opening on the hotel's 25th floor is a timely tonic, especially given what the world has gone through in the last two years. At a moment when borders are, at long last, reopening, and friends and families are finally able to reunite, creating experiences for people, diners especially, has become, he says, even more important. "The beauty of hospitality is that it brings people together. Restaurants give us the feeling of escape and reconnection through food."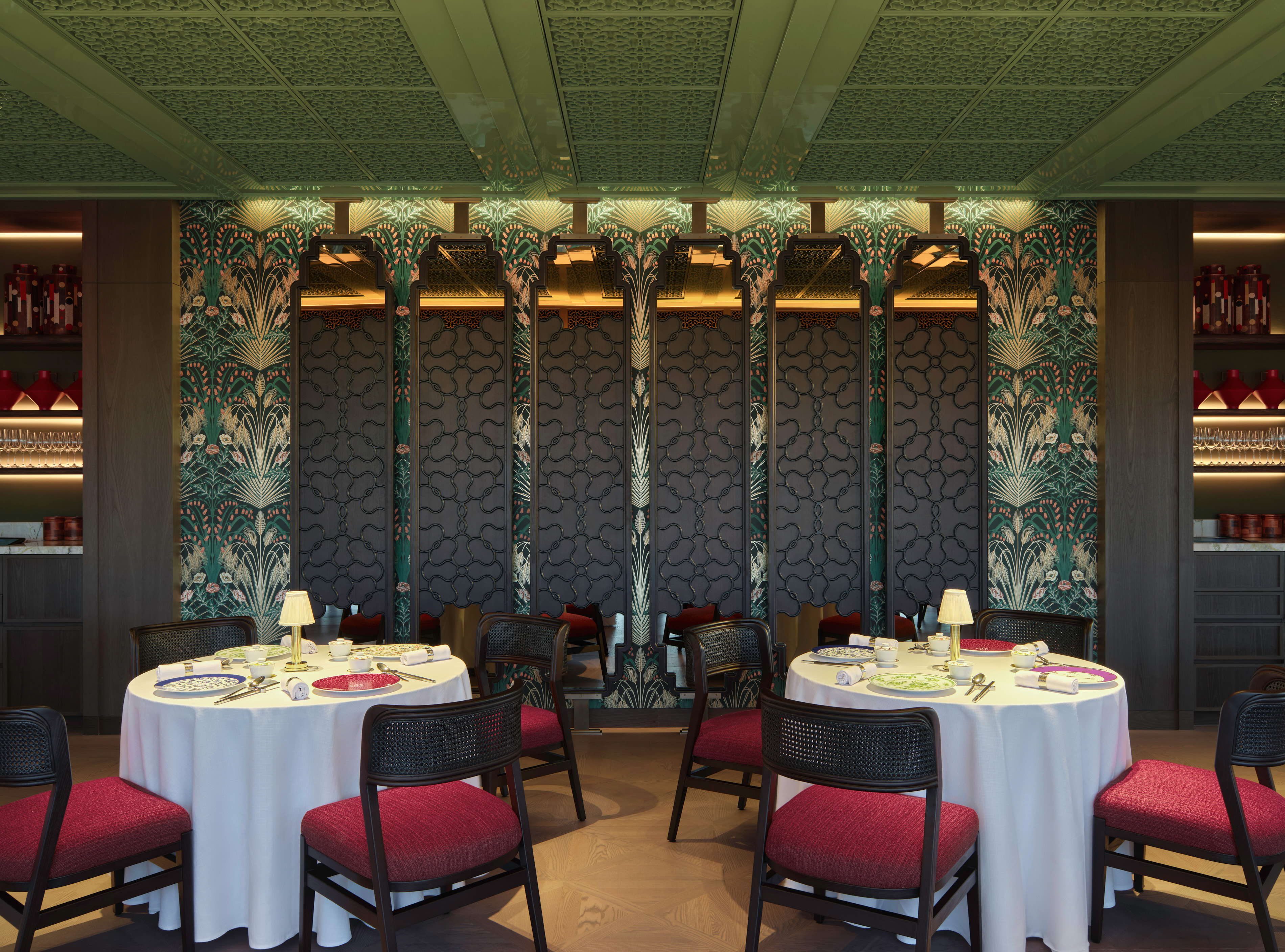 This sense of connection is the foundation of the interior design for 5 ON 25 – formerly Auntie's Wok and Steam, a casual, exuberant diner serving local standards and tze-char.
Here, Fu worked to stitch together the restaurant's physical space, the communal experience of the meal, and the emotional resonance for the diner. The result is a completely reimagined, sleek 321 sqm upscale dining restaurant that seats a full house of 68 diners in the main dining room, and two private dining suites.
Memories of going to traditional Chinese restaurants and tea-houses as a child provided Fu with the starting reference point for his mood-board for 5 ON 25. "I remember walking into those spaces and experiencing this sense of stepping back in time. They were always quite cinematic, visually mesmerising and theatrical. And that was the memory I tapped into when I conceived 5 ON 25."
To that end, he wields a palette of rich colours that blends ruby, dark chocolate, a splash of dusty pink, and emerald greens, with textured velvet, lacquer and warm timber hues to evoke an old world charm of 1950s Singapore. "It's sophisticated. It's moody. It's nostalgic," Fu says, adding that the mood is also lightly whimsical to align with his vision of the Andaz's narrative.
The furniture and fittings, for instance, are entirely bespoke. Oak wall panels, stained a rich espresso hue, are framed by mirrored panels, parquet flooring, and modular bronze chandeliers, whilst gauzy Roman sheers are lifted to reveal the shimmering skyline of Singapore's skyscrapers and the roofscapes of turn-of-century shophouses below. Running down the central axis of the dining room is a glossy lacquered pistachio-green ceiling panel etched with an intricate lattice pattern, whilst rattan-backed chairs and sofas are lined in silk, leather and chinelle.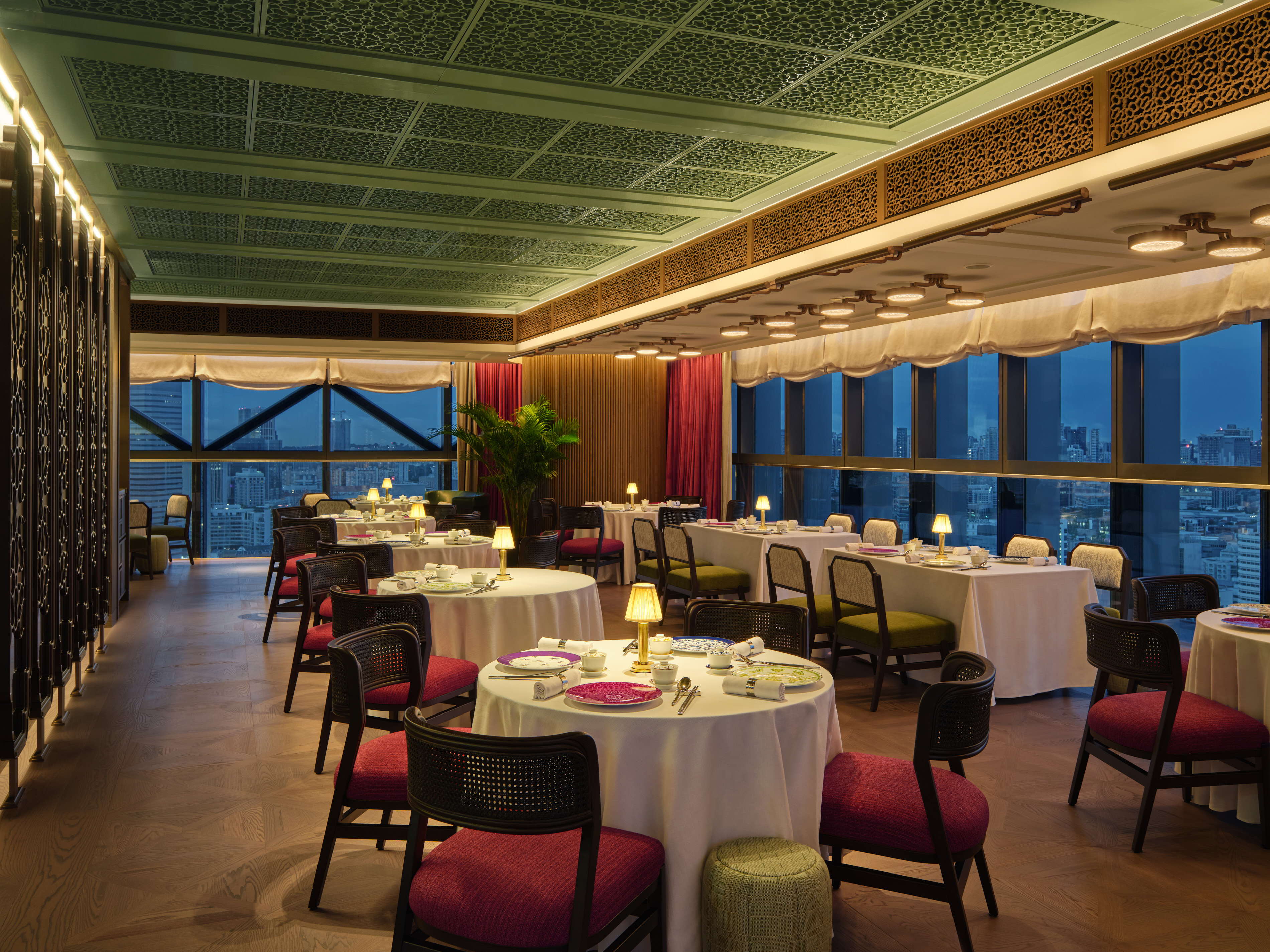 The effect is to evoke a reimagined sense of old-world charm.
The private dining suites – Emerald seats 14, and Ruby, 10 – are no less dramatic, featuring plush sofas against a green onyx back wall, hand-tufted carpets whose intricate lattice patterns echo the ceiling panels, and dramatic pendant chandeliers of light mint-green cut glass. Green rugs and chairs dominate Emerald, whilst the Ruby suite is dressed in burgundy. "There's a sense of eclecticism about these two rooms," says Fu. "I wanted to create an imagined narrative in which the diner has been invited to dinner at the home of a well-travelled, sophisticated Chinese family."
For Fu, the greatest challenge of designing 5 ON 25 was that it's set on a floor with distinctly different drinking and dining concepts. Each space needed to have its own persona, but when read together, a cohesive visual DNA emerges. This point is important because it underscores Fu's design approach. "I am interested in the physical interaction between people in the context of a restaurant, but I'm not here to impose my personal aesthetics. My role is to create a backdrop for people to immerse in, to have an experience, and to enjoy the cuisine."
In other words, it's not just aesthetics that matter. Design must have a pragmatic side. For Fu, no matter how well designed it may be, a restaurant that has no human element makes no sense. And in this meta age of social media and a global dining community driven by instantaneous communication, "it's so easy for designers to fall into the trap of designing something for the sake of how it photographs. But where does the physical experience come in?"
"Chinese restaurants are always tricky to design," Fu adds. "With 5 ON 25, though, I felt I was able to push its personality a bit further with the idea of dining in a private home. That allowed me to elevate the aesthetics without straying too dramatically from the other F&B outlets on the floor. The restaurant's design completely fits within the Andaz aesthetic and emotional approach to hospitality."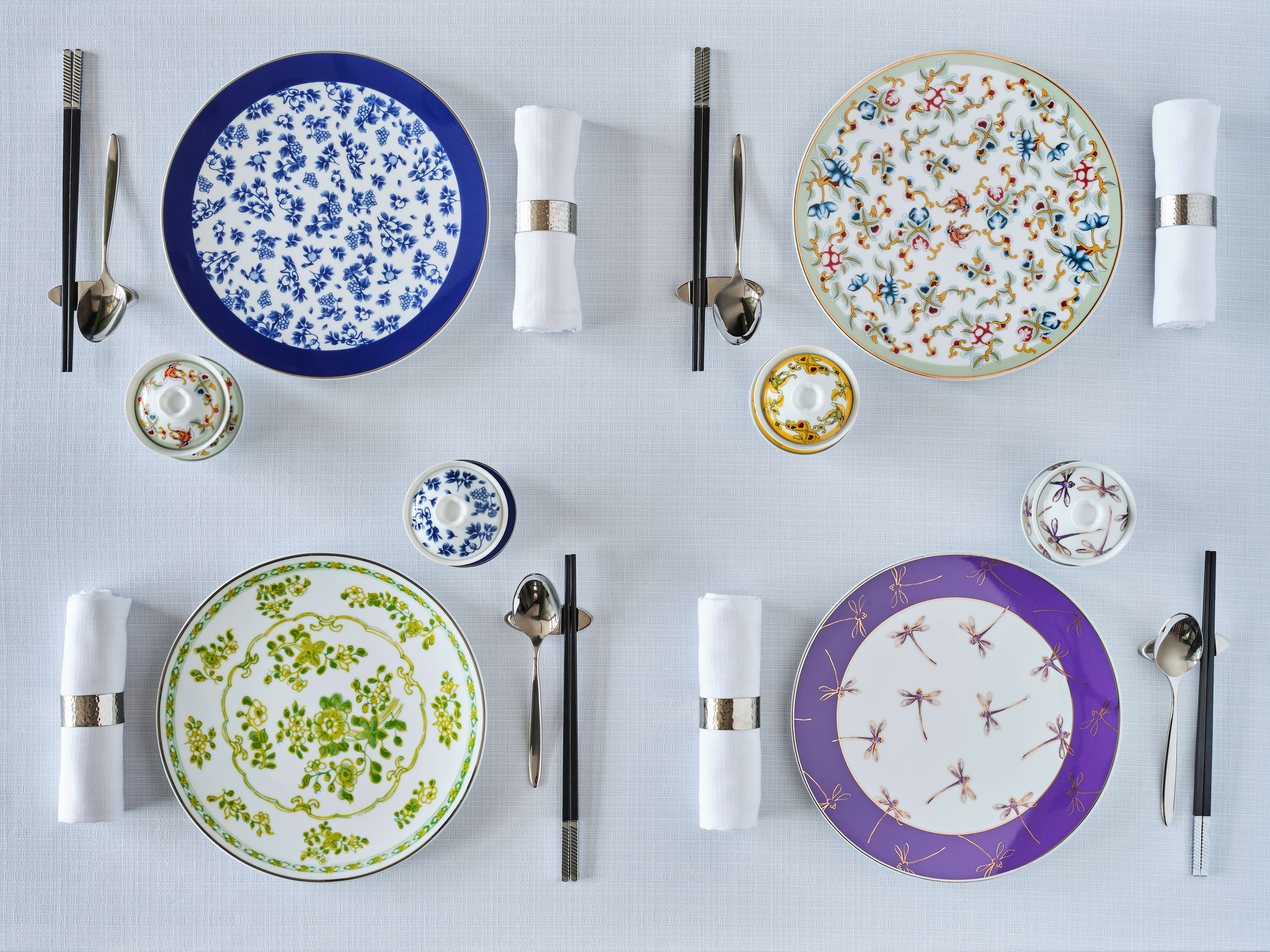 -ENDS-
For further information:
About Andaz Singapore
Occupying Levels 25 to 39 of the DUO Tower, Andaz Singapore is a lifestyle hotel brand by Hyatt Hotels Corporation that inspires fresh perspectives. The first Andaz property in Southeast Asia offers 342 guestrooms and suites, four event venues, and four dining and drinking concepts, with stunning views of the city. Situated at the crossroads of the Kampong Glam, Little India and Bras Basah Bugis cultural districts—with their intimate shophouse-filled alleyways and atmospheric colours, textures and flavours— Andaz Singapore aims to spark off a discovery of the rich culture of Singapore, and inspire guests to experience the city from new angles. For more information, please visit andazsingapore.com.
About Andaz
Global in scale while local in perspective, the Andaz brand of luxury lifestyle hotels weaves the sights, sounds, and tastes of each property's surroundings for a distinctively local experience. Through thoughtful, unscripted service tailored for travelers, Andaz hotels enable guests to go beyond the familiar and satiate their curiosity while immersing them in the spirit of the eclectic culture around them. Twenty- five Andaz hotels are currently open: Andaz 5th Avenue and Andaz Wall Street in New York, Andaz San Diego, Andaz West Hollywood, Andaz Napa, Andaz Scottsdale Resort & Bungalows, Andaz Savannah, Andaz Maui at Wailea Resort, Andaz Ottawa ByWard Market, Andaz Mayakoba Resort Riviera Maya, Andaz Costa Rica Resort at Peninsula Papagayo, Andaz London Liverpool Street, Andaz Amsterdam Prinsengracht, Andaz Munich Schwabinger Tor, Andaz Vienna Am Belvedere, Andaz Singapore, Andaz Delhi, Andaz Xintiandi in Shanghai, Andaz Tokyo Toranomon Hills, Andaz Seoul Gangnam, Andaz Xiamen, Andaz Capital Gate Abu Dhabi, Andaz Dubai The Palm, Andaz Shenzhen Bay, and Andaz Bali. For more information, please visit andaz.com. Follow @Andaz on Facebook, Twitter and Instagram, and tag photos with #WhenInAndaz.