ANDRÉ FU SUITE
NEW SUPER-SUITE DESIGNED BY ANDRÉ FU FOR THE UPPER HOUSE, HONG KONG LAUNCHES MARCH 2021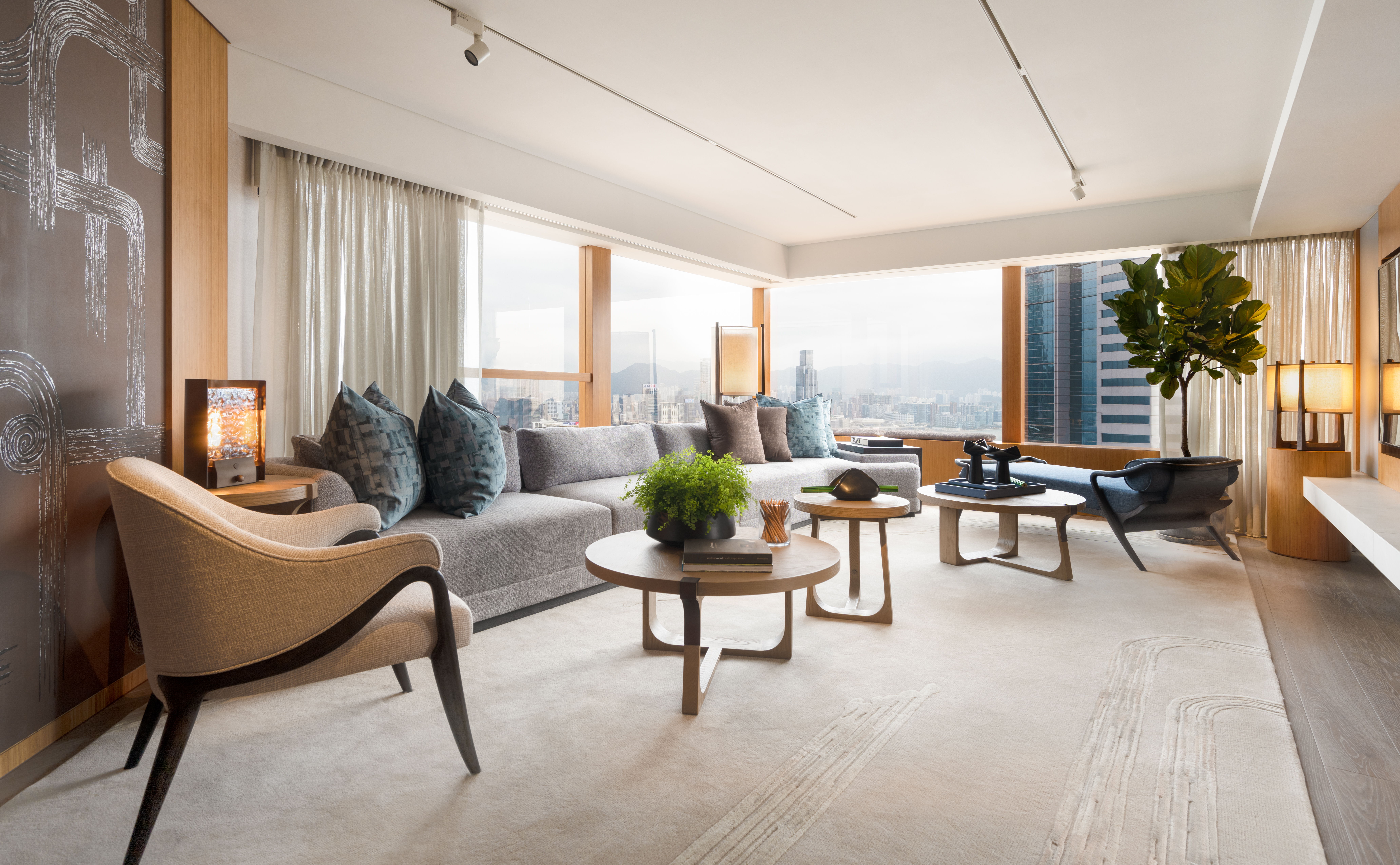 An Experiential Journey in the André Fu Suite  
'This is the ideal time to go back to my original design for The Upper House and recreate it as a private residence with pieces from my own collection. What a wonderful chance to reflect on the social, artistic and cultural dynamism of Hong Kong today.'  André Fu 
A decade after André Fu and his studio received international accolade following his work with The Upper House, the collaboration between the architect and the hotel continues with the unveiling of the André Fu Suite on the hotel's level 48. The new 1,960 square feet suite pays homage to the long-lasting relationship between Fu and The Upper House. This namesake suite enhances his original design intention to create a sophisticated and modern residence. It embodies Fu's design ethos of "relaxed luxury" and provides residents with a peek into his personal journey with the hotel that jumpstarted his career. 
As guests explore and interact with the surroundings during their stay, they enter and discover the world of André Fu Living and his collaboration with The House that has spanned over a decade. Framed sketches of the architect's original concept designs of the Hotel from 15 years ago adorn the walls, over 100 pieces of homeware are curated from the André Fu Living Collection and hand-selected books from the architect's personal library each translate the shared vision and history of André Fu and The House into an immersive living experience. It is designed to act as a conduit for experiential and authentic connections to people and place. 
'It is a perfect occasion to redesign The Upper House's signature suite with a fresh contemporary look that celebrates creativity. Guests are ultimately seeking spaces that are adaptable, purposeful and authentic.' ​ says Fu. 
The intimate and inviting space is intended to give visitors the sense of walking into somebody's home, and enables hosts to embrace their personal expression of living. The room begins with an expansive living room for lounging. A dining table, set for 18, is the perfect background for entertaining, whether dinner parties, celebrations or more formal business lunches. There is also a place for rejuvenation - an integrated spa conceived as a dedicated and transformative space featuring twin massage beds.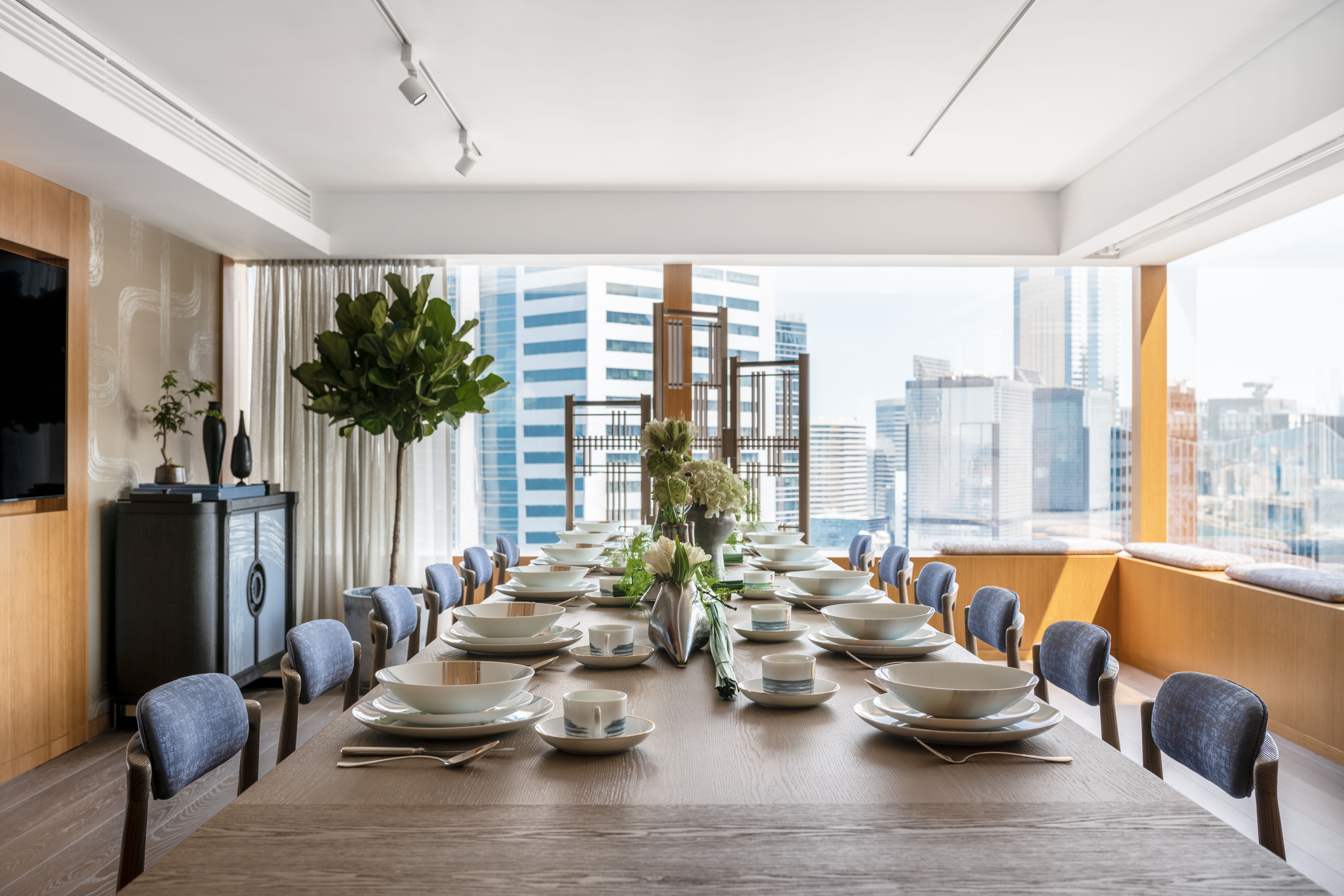 The suite's design is a testament to the sensibilities of its designer and his ability to bring a calm simplicity into interior spaces. Using a palette of mineral blue, dusty mink and pale ivory, the space will feature pieces from the existing André Fu Living collection, which first made its debut in Milan during Salone del Mobile 2019, as well as presenting brand new unseen pieces from his soon-to-debut Art Deco Garden collection – including a collaboration with British heritage wall covering specialist, de Gournay and lounge seatings upholstered in Loro Piana's finest wools. From the sculptural ottoman to the fluid structure of the Mid-Century inspired furniture, and the refined porcelain tableware delicately garnished with artisan brush gilding, each piece within the suite is an expression of Fu's signature understated sophistication and fascination with craftsmanship, focusing not simply on how beautiful things look but how they make guests feel.
In addition to the arrival of the suite, Fu turned his hand to transform Level 4 from a place to check-in and out to a space that feels more akin to a living room. Replacing traditional check-in desks with a more open high table removes the barrier between guest and the guest experience team. An adjoining lounge space, featuring pieces from André Fu Living, is also created for guests to conjure. The result is an increased sense of intimacy, interaction and relaxation in an area that combines form and function for an enhanced guest experience. ​ 
Fu reflects on his long relationship with The Upper House: 
'This is a golden opportunity for The Upper House and myself to review the synergy between our original design philosophy of a decade ago and my present aesthetic expressed through the Andre Fu Living Collection.'
The André Fu Suite will open at the end of March 2021. 
---
NOTES TO EDITORS
About the brand André Fu Living
​André Fu Living [AFL] marks architect André Fu foray into a world of lifestyle offering that goes beyond his spatial creations. ​ 
'It is not about imposing a lifestyle, it is a personal expression of living.' says Fu. 
The brand seeks to celebrate the notion of lifestyle with a multi-category collection, from tableware, bed linens to furniture and decorative lighting. The collection celebrates Fu's personal life and taps into his exploration of a world that embraces his ​ design language of relaxed luxury. ​ 
The branding itself has adopted a calligraphic approach with an intent to evoke handcrafted values with a nod to Asian typography scripts. The 'A' 'F' 'L' are combined into a rotationally symmetrical monogram, which allows products to be subtly branded in the manner of a jeweller's hallmark. ​ 
www.andrefuliving.com
​​
​About André Fu  ​
​'To me, true luxury is in the experience and not just the aesthetics.' 
Known for his modernist sensibilities and distinctive ability to bring a calm simplicity to interior spaces, architect André Fu has been the influence behind some of the world's most luxurious hotels and restaurants. 
Fu became known overnight when he first redefined notions of hospitality with his design of the world-renowned Upper House hotel in Hong Kong. His seemingly effortless creations range from a unique furniture collaboration with Louis Vuitton's Objets Nomades collection to contemporary art galleries in Hong Kong, Tokyo and Shanghai, and major hotels and restaurants around the world for leading brands including Villa La Coste in Provence, The Berkeley London, St Regis Hong Kong, Waldorf Astoria Bangkok, as well as the newly opened Hotel The Mitsui Kyoto. ​ 
Fu's work has won increasing recognition with numerous awards. In 2016, he was named Designer of the Year for Maison & Objet Asia, and was honoured in Wallpaper*s list of 'Top 20 Interior Designers'. In 2019, Elle Décor China has named André as "Interior Designer of The Year". 
With the establishment of André Fu Living, his vision seeks to translate the brand into different areas of lifestyle – a vision to embrace a genuine expression of 'lifestyle from within'.
​​
​www.andrefustudio.com
​​
​About The Upper House
​Designed by award-winning architect Andre Fu, The Upper House, Hong Kong, is highly individualised and provides a sense of understated luxury. The House offers 117 rooms, all featuring scenic harbour or island views, including 21 suites and 2 penthouses, and begin at 730 sqft – the largest in Hong Kong. Named to symbolise an 'upward journey' to a retreat above the bustllng city, natural materials, original sculpture installations and seamlessly proportioned spaces are integrated to create a sophisticated and modern "Asian influenced" residence. The lush green surrounds of The Lawn offer guests a respite with relaxing cocktails or complimentary group wellness classes. A warm and inviting Sky Lounge, featuring a central fireplace, welcomes guests day and night and plays host to the House's globally renowned signature talk series, Up Close. Café Gray Deluxe had its last day of service on 31 December 2020 after 11 years of being at the heart of Hong Kong's luxury dining scene. A new and exciting dining concept will be revealed in spring 2021. One of four Houses in The House Collective, The Upper House sits above Pacific Place, Hong Kong's premier integrated commercial, retail and hospitality complex, conveniently located in the heart of Hong Kong's business district.