Introducing Sézanne and Maison Marunouchi
New Dining Destination at Four Seasons Hotel Tokyo at Marunouchi designed by André Fu in collaboration with Chef Daniel Calvert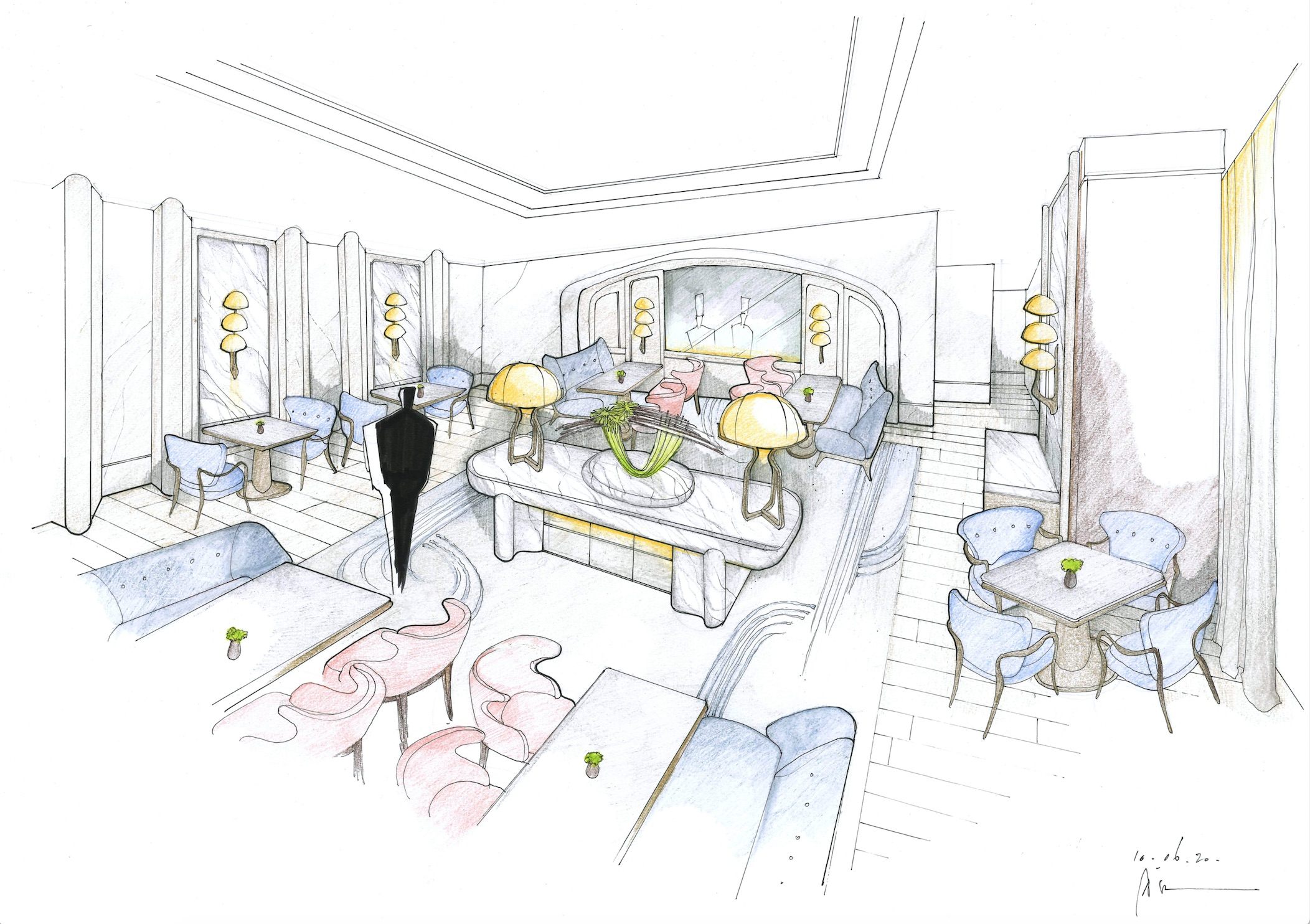 (London, March 2021)
This June, Tokyo's most-anticipated epicurean hub at Four Seasons Hotel Tokyo at Marunouchi is set to open its doors.The new dining destination will consist of two distinct venues: Sézanne, a French fine-dining restaurant, and Maison Marunouchi, a lively French bistro, both designed by Hong Kong based interior architect André Fu who also designed the hotel's previous restaurant Motif. ​ In keeping with the Hotel's ultra-boutique tenor (the Marunouchi property has just 57 rooms and suites), the culinary journey promises to be intimate, engaging and deeply personalized.
Michelin starred chef Daniel Calvert, originally from the UK, is the lynchpin of this ambitious new offering. Coming from Belon in Hong Kong, which he led to No. 4 on Asia's 50 Best Restaurants list, Chef Daniel has centred his vision for Sézanne around dynamic, technique-driven French cuisine. With a focus on updating classic recipes, dishes are crafted with a light touch and plated with flawless precision. "Everything on the plate is there for a reason," remarks Chef Daniel.
The high-concept cuisine is complemented by thoughtful interiors, brought to life by André Fu. "The mindset here is very different from a typical hotel restaurant," explains Fu, noting the 'hidden gem' feel evoked by an array of distinct seating areas – each one carefully curated with signature touches. Effervescent colours flow into sculpturally fluid silhouettes, setting a tone that is contemporary yet relaxed: "a quiet elegance that's designed to welcome, not overwhelm". André employs subtle Japanese detailing, from eucalyptus wood to Zen garden motifs and local artisan-made mud paint, to evoke an almost-poetic sense of place.
Over at Maison Marunouchi, Chef Daniel and his team will serve up fresh interpretations of bistro fare against spectacular views of Marunouchi and Tokyo Station. The aesthetic at the bistro echoes the energy and vitality of the high-speed Shinkansen trains in the backdrop. Featuring an interplay of tangerine orange and British racing green, André's vibrant palette is anchored by Thonet chairs and a communal table at the centre. Framed by the glittering Tokyo skyline, the iconic bar will serve classic cocktails and a changing selection of wines.
"What sets apart our upcoming dining destination is that every single element builds towards Chef Daniel's vision as realised by André Fu," explains Charles. "Not just the ingredients and menus but also the layout, the décor, the style of service – even the uniforms! All the pieces of the puzzle fit together seamlessly. We can't wait for our guests to experience the result of this exceptionally collaborative process."
-Ends-
NOTES TO EDITORS
About ANDRE FU STUDIO
ANDRE FU STUDIO is an internationally acclaimed design studio in Hong Kong, founded by interior architect André Fu. With an extensive portfolio of projects throughout Asia and Europe, the studio has revolutionized the concept of modern luxury with a series of projects that reflect Fu's signature artistic perspective and timeless sensibility.
"The spirit of my design philosophy is about provoking new ways of thinking about what luxury means," says Fu.
For the past decade and a half, Fu's vision has been defined by a seamless alignment of cultural and design sensibilities, modern luxury, art and craftsmanship. A trained architect, his projects span scales and typologies, continuously bridging the gap between cultures, and drawing as naturally on European principles of beauty as from Oriental qualities, traditions and modernity.
His seemingly effortless creations range from a unique furniture collaboration with Louis Vuitton's Objets Nomades collection to contemporary art galleries in Hong Kong, Tokyo and Shanghai, and major hotels and restaurants around the world for leading brands including Villa La Coste in Provence, Hong Kong's Upper House Hotel and the St Regis, The Berkeley London, as well as Waldorf Astoria Bangkok.
In 2014, Assouline published 'André Fu', presenting 15 of the designer's inspirational spaces while this year has also seen the publication of a new hardback monograph titled 'Crossing Cultures with Design', a collaboration with UK based publisher Thames & Hudson and writer Catherine Shaw. The book explores Fu's defining influences, the development of his unique and highly refined aesthetic and its relevance on the international design stage.
In 2019, he successfully launched André Fu Living (AFL) with a holistic collection of lifestyle products that reflect his signature modern style.
Current commissions include the Capella Maldives and a key commission for London's iconic Claridge's Hotel.
André Fu holds a Masters in Architecture from Cambridge University. In 2016, he was named Designer of the Year for Maison & Objet Asia, and was honoured in Wallpaper*s list of 'Top 20 Interior Designers'. In 2019, Elle Décor China has named André as "Interior Designer of The Year".
About Four Seasons Hotel Tokyo at Marunouchi
Four Seasons Hotel Tokyo at Marunouchi is a boutique property with 57 luxurious guest rooms and suites. Located in the prestigious Marunouchi district, the Hotel is just a three- minute walk from Tokyo Station, providing easy access to the rest of the city and all across Japan. At this intimate hideaway, every guest receives a warm Four Seasons welcome and deeply personalized service.